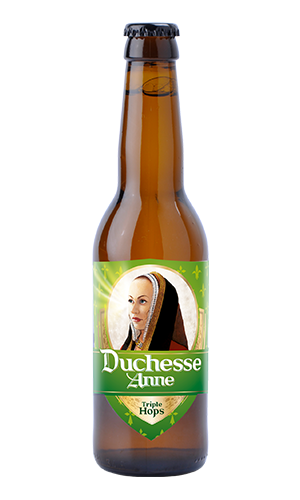 DUCHESSE ANNE TRIPLE HOPS
This beer was created in spring 2014, on the occasion of the 500th anniversary of the disappearance of the Duchesse Anne de Bretagne. It benefits from additional hopping according to the "Dry Hopping" method (raw hopping at the end of fermentation), which gives it refreshing, subtle and complex aromas.
Fine foam characteristic of the Brasserie Lancelot, beautiful golden color drawing orange, like the lights of a sunset summer sun.
Intense, powerful aromas of hops. Exotic fruits and passion fruit. Hint of notes of greenery and citrus.
Round and sweet, sustained by the exotic and powerful flavours of hops, a frank and not very persistent bitterness.
BRAND

LANCELOT

COUNTRY

France

STYLE

Triple

COLOR

Golden

POURING

High

ALCOHOL

6,9%

POURING

Draught beer

ORGANIC

Organic