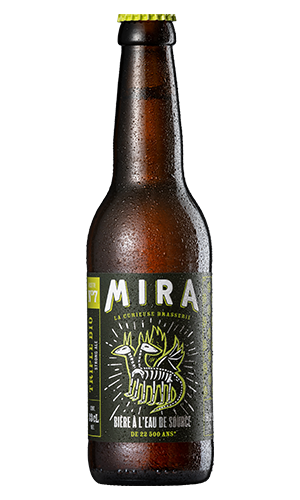 Taste:
Our n°7, a triple on a lager base, charms you with its alcohol and spice aromas, and makes you fall in love with its perfect aromatic alliance. Its sweetness is just right, making it a beer that you want to drink again and again, and again...
Sensation in the mouth :
On tasting, the Triple is round, pleasantly powerful and decidedly warm.
Goes well with :
It can be enjoyed with racy meats such as game, smoked charcuterie, as well as creamy and blue-veined cheeses and closes the meal wonderfully alongside caramelized desserts such as a tarte tatin or a crème brûlée.
BRAND

MIRA

COUNTRY

France

STYLE

Strong Blond Ale

COLOR

Blond

POURING

High

ALCOHOL

9,2%

POURING

Bottle

NEW

New